APRJA #8 MACHINE FEELING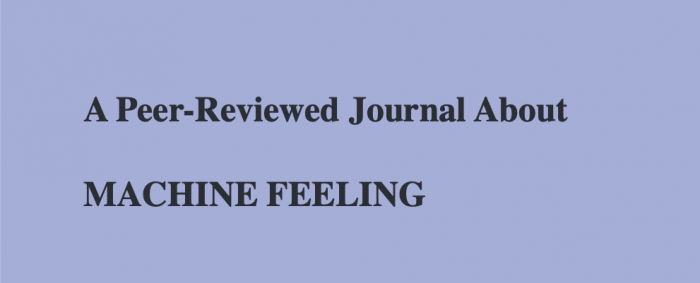 We are pleased to announce the publication of the latest issue of APRJA (A Peer-Reviewed Journal About) which is a result of our ongoing collaboration with Aarhus University as part of which we annually organize a research/PhD workshop related to our festival themes. Find the call for our upcoming workshop Research Networks here.
Under the title Machine Feeling, the 8th issue of APRJA follows presentations at transmediale 2019 and an earlier workshop at CRASSH, University of Cambridge, organized by Aarhus University, transmediale and Cambridge Digital Humanities Learning Programme, University of Cambridge.
Digital culture has become instrumental for capturing and managing what Raymond Williams would once have called "structures of feeling". The journal issue A Peer-Reviewed Journal About Machine Feeling alludes to this, and points to a material analysis of aesthetics and culture, including its technical and social forms, and in the way that this concept was originally employed as an acknowledgment of the importance of the hard to capture dimensions of everyday life. What potential new sensibilities and structures of feeling may arise in such normalized registers of our habits? What new cultural and social forms and practices emerge in the coming together of machine learning and structures of feeling? In each their own way, the authors in this journal explore these questions.
Read the journal online.
Content
Editorial – Feeling, Failure, Fallacies
Iain Emsley – Iteracies of Feeling
Irina Raskin – Machine Learning and Technoecological Conditions of Sensing
Maike Klein – Robotic Affective Abilities
Brett Zehner – Machines of Subjection. Notes on a Tactical Approach to Artificial Intelligence
Maria Dada – Queering Global Information Systems
Tiara Roxanne – Digital Territory, Digital Flesh. Decoding the Indigenous Body
Rebecca Uliasz – Assemblages of Desire. Reappropriating Affective Technologies
Carmen Ng – Affecting Reality. Intersecting Games, Trauma, and Imaginaries
Malthe Stavning Erslev – I Forced a Bot to Read over 1,000 Papers from Open Access Journals and Then Asked It to Write a Paper of Its Own. Here Is the Result. Or, a Quasi-Materialist Approach to Bot-Mimicry
Michela De Carlo – Synthetic Bodies and Feeling Generators
Tanja Wiehn – (Un)predictable Acts of Data in Machine Learning Environments
Mitra Azar – Pov-Matter, Cinematic POV and Algorithmic POV between Affects and Umwelten
Daniel Chávez Heras – Spectacular Machinery and Encrypted Spectatorship
Tomasz Hollanek – Non-User-Friendly. Staging Resistance with Interpassive User Experience Design
Rosemary Lee – Operative Image. Automation and Autonomy
Carleigh Morgan – Calculated Error. Glitch Art, Compression Artefacts, and Digital Materiality
Context
Since 2011, Aarhus University and transmediale have organised research workshops as part of an ongoing collaboration with shifting partner organizations: In/Compatible Research, Universität der Künste (Berlin, 2011); Researching #BWPWAP, Leuphana University of Lüneburg (Lüneburg, 2012); Post-digital Research, Kunsthal Aarhus (Aarhus, 2013); Datafied Research, School of Creative Media, City University Hong Kong (Hong Kong, 2014), EXCESSIVE RESEARCH, Liverpool John Moores University, the Liverpool Biennial (Liverpool 2015), MACHINE RESEARCH, Constant (Brussels, 2016), RESEARCH VALUES, Brandenburg Center for Media Studies (Potsdam, 2018), and MACHINE FEELING, University of Cambridge.
Each of these workshops has resulted in the publication of a peer-reviewed newspaper as an experiment in new forms of scholarly publication, and an open access online academic journal, APRJA (A Peer-reviewed Journal About_).