Book Launch with Pinar Yoldas, Regine Hengge, Ingeborg Reichle
Book Launch with Pinar Yoldas, Regine Hengge, Ingeborg Reichle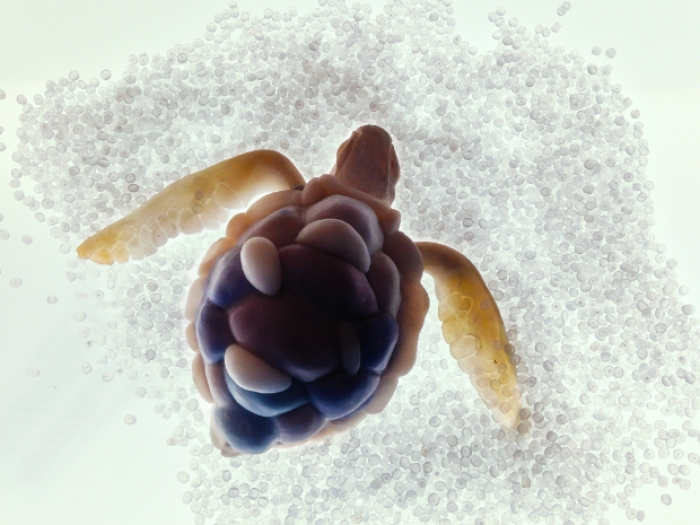 On 4 May 2014, 15:00, the artist Pinar Yoldas will talk about current findings of scientific research on biofilms with microbiologist Regine Hengge against the background of her exhibition An Ecosystem of Excess as well as new ecosystems in the oceans of the world. Moderated by the art historian Ingeborg Reichle, they will discuss the future development of our marine ecosystems which are polluted by plastic garbarge.
Together with this talk, we will celebrate the book launch of the catalogue that was published by Ernst Schering Foundation with the publisher argobooks on the occasion of Pinar Yoldas's exhibition An Ecosystem of Excess. Yet another reason to come on Sunday, 4 May 2014 is to see the exhibition between 12:00 to 19:00 for it is the last chance!
We would be happy to welcome you to the artist talk (in English), book launch, and finissage and kindly ask you to register due to the limited space by 29 April 2014 under anmeldung[at]scheringstiftung[dot]de.
Exhibition duration: until 4 May 2014 daily 12:000-19:00 (except Tuesdays and Sundays, closed on 1 May)
Schering Stiftung | Unter den Linden 32–34 | 10117 Berlin
This exhibition is a cooperation between transmediale and the Ernst Schering Foundation.
More on the exhibition An Ecosystem of Excess
More on the Ernst Schering Foundation