Coming Soon: Researching BWPWAP newspaper!
Coming Soon: Researching BWPWAP newspaper!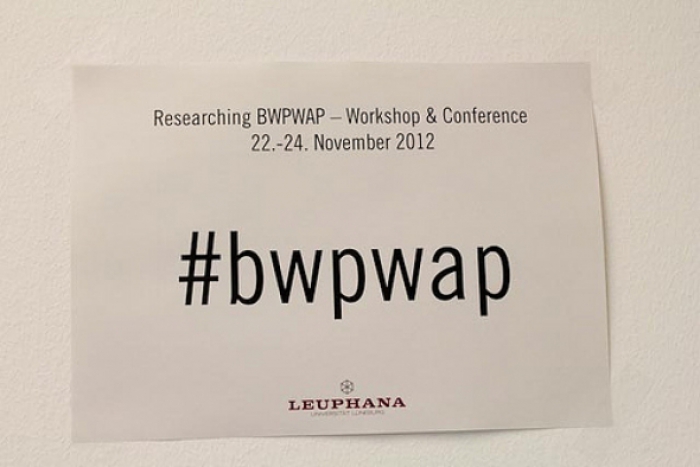 How can Back When Pluto Was a Planet (BWPWAP) reflect on research? At the International Research Conference and PhD Workshop: Researching BWPWAP around 20 international PhD students gathered with researchers to present their activities and reflect on further networked research practices taking the next transmediale festival´s theme as a starting point.
Participants were selected via a public call, and during three days (22-24 November 2012) of an intense sharing atmosphere, new forms of collaborative research, peer-review, publication and performative knowledge dissemination were discussed.
The meeting will culminate into the publication of a P2P reviewed newspaper presented in the framework of transmediale festival. The panel Researching BWPWAP will gather Christian Ulrik Andersen (dk), Geoff Cox (uk/dk), Armin Beverungen (de), Tatiana Bazzichelli (it/de), Kristoffer Gansing (se/de), and will take place at the HKW on January 31st at 11am.
The conference was made possible by a partnership between the reSource transmedial culture berlin/transmediale festival, the Centre for Digital Cultures, Leuphana University of Lüneburg and the Digital Aesthetics/Participatory IT Research Centre, Aarhus University.
The event follows on from similar events organised in 2012 and 2011 at Universität der Künste (Berlin), and Aarhus University, respectively. For the publication resulting from the last events, visit the following:
> darc.imv.au.dk/worldofthenewspaper.pdf
> darc.imv.au.dk/publicinterface

To see the pictures from the PhD Workshop click here.
Read more about the programme and contents: http://www.researching-bwpwap.net/