First part of year-long festival programme
First part of year-long festival programme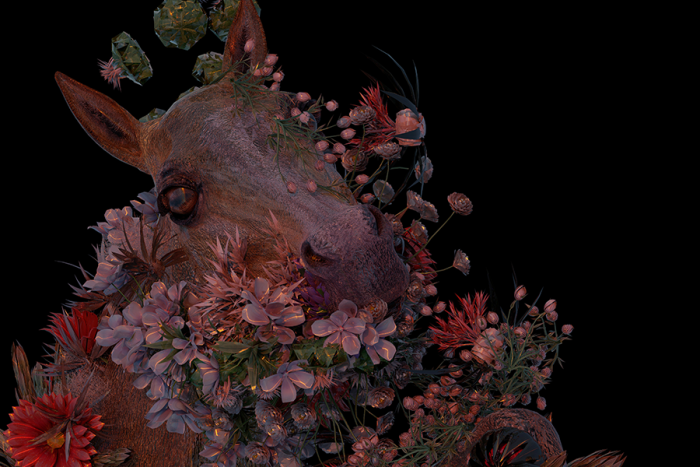 With an exhibition across two venues in Berlin, and an extended film programme at transmediale studio, our year-long festival begins on 23 January 2021. Challenging systems of control and exerting new socio-political pressures, the first part of our programme brings together a collection of artistic positions that offer possibilities and hope through tactics for refusal.
Exhibition
Exploring tactics for refusal and their capacity for hope, the exhibition brings together artistic positions that alter our understanding of long-standing political conflicts, shape futures out of contradictions and differences, establish queer cosmologies, and inscribe new ideologies into the mundane. From small acts of domestic rebellion to anti-monuments, the works in the exhibition suggest a responsibility for plurality and materialise what is often muted, erased, or made fugitive. The exhibition runs from 23 January to 28 March 2021 at Kunstraum Kreuzberg/Bethanien, and at a second venue to be announced soon.
Featuring Anne Duk Hee Jordan, Bassam Al-Sabah, Bassem Saad, Danielle Brathwaite-Shirley, Eli Cortiñas, Jennifer Mehigan, Larry Achiampong, Laura Yuile, Madison Bycroft, Natasha Tontey, Patricia Dominguez, Sofia Caesar, Sung Tieu, and Yang Ah Ham.
Film programme at transmediale studio
For the first time, we will host part of the festival programme in our new project space at Silent Green in Wedding. The film programme remote. response. request. takes place from 23 January to 2 May 2021, and presents a monthly series of film screenings and artist exchanges installed at transmediale studio. Activating the festival theme for refusal, the programme engages with film making practices that refuse dominant narratives in favour of approaches that embrace polyphonic expressions of reality. Forming new relations and conversations between the viewer and the moving image, remote. response. request. brings together film makers, academics, writers, and performers.
Featuring Rhea Storr, Phanuel Antwi, Elsa Brès, Kamal Aljafari, Maud Craigie, and Sam Hamilton, with more to be announced.