Kunstraum Kreuzberg / Bethanien / Crystal World Open Laboratory
Kunstraum Kreuzberg / Bethanien / Crystal World Open Laboratory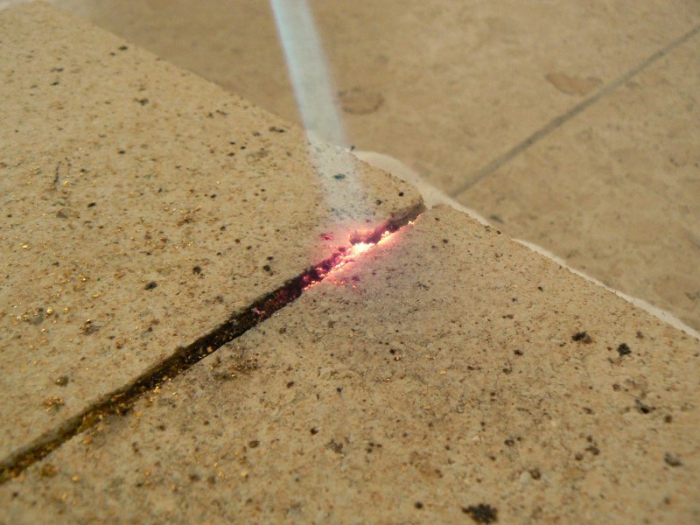 The Crystal World Open Laboratory
Artist/s: Martin Howse, Jonathan Kemp, Ryan Jordan, Ralf Baecker and others
In The Crystal World Open Laboratory for the CTM.12 festival, the basic materials of digital devices (gold, silver, palladium, silicon, etc.) are recovered by mechanical and chemical methods. Here, the often dangerous process of recovering rare raw materials from the waste cycles are revealed, just as is practiced by the dispossessed in all parts of the world for reasons of survival. In a second step, the raw materials gained during the process are used to construct new electrochemical test arrangements for producing sound, light and other events that make use of chaotic material processes. The closed, completely determined environment of digital calculations is broken into and opened up by forcible de-crystallization and re-crystallization in order to etch psychophysical distortions and uncertainties into the crystalline cycles. At the end of the workshop period the results will be displayed in a mixture between presentation and performance. Afterwards, the setting, the materials and the created artifacts will remain visible as an exhibit.
As part of the project The Crystal World, Ralf Baecker shows his installation "Irrational Computing". The installation is an artistic examination of the materials, aesthetics and potential of digital processes. The installation is based on semiconductor crystals, the raw materials of information technology, and through targeted manipulation of the materials, it forms a digital signal processing engine that operates on the dividing line between order and chaos. "Irrational Computing" reinforces the mystique and magic of these materials, which are the core of our technology all around us.
Kunstraum Kreuzberg/Bethanien is an exhibition space for contemporary art with a focus on current social and cultural issues. Central to the projects here are the meaningful contextualisation of themes and consideration for diversity, internationality, and local relevance. Kunstraum Kreuzberg/Bethanien is an organisation of the Friedrichshain-Kreuzberg District Council.
Supported by the Federal Agency for Civic Education (Bundeszentrale für politische Bildung). "Irrational Computing" was developed as part of a residence at dock-Berlin, in cooperation with the Schering Foundation.
Vernissage/Opening time & date: 27. Januar 2012, 19:00
Intermediate Presentation: Presentation/Performance The Crystal World Salon, 5.2.2012, 16:00
Opening hours each day: 12 – 19:00
Exhibition dates: 28. Januar bis 19 Februar 2012
Cost: free entry
Address: Kunstraum Kreuzberg / Bethanien, Mariannenplatz 2, 10997 Berlin
> ctm-festival.de
> crystal.xxn.org.uk
> no-surprises.de
(Image: Jonathan Kemp. Crystal World Open Laboratory)