McLUMINATIONS #1 - Screening and Discussion
McLUMINATIONS #1 - Screening and Discussion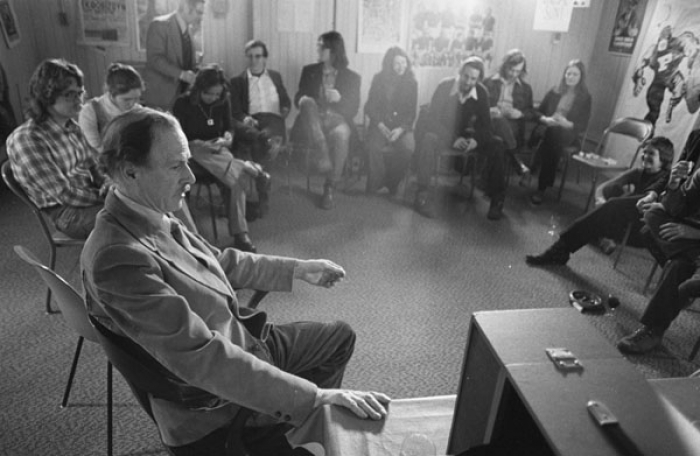 The Marshall McLuhan Salon of the Canadian Embassy, Berlin houses an extensive archive of video documentation and original broadcasts featuring legendary Canadian media philosopher Marshall McLuhan. Unique introductions to McLuhan's work and ideas these documents generate McLuminations, a special series of three 'illuminated screening' events during the McLuhan Centennial year, directed by Baruch Gottlieb of the Vilém Flusser Archive (UdK Berlin).
In McLuhan vs. McLuhan: The optimist and the monitor, a speculative encounter, the inaugural session of McLuminations on May 29, 2011, legendary McLuhanist Derrick de Kerckhove and Berlin McLuhan scholar Steffi Winkler reflect on McLuhan's inner conflicts with regard to electronic media using original material selected from the Marshall McLuhan Salon archive. In this speculative encounter between two faces of McLuhan, the two scholars will attempt to extrapolate from the documentary material what McLuhan might have to say about our current media age.
The series title McLuminations refers to the tradition of 'illuminated manuscripts' whereby texts were adorned by painstaking ornamentation which contributed to the interpretation as well as to the aesthetic pleasure of reading. The tradition of Illumination ceased with the invention of the Gutenberg Press. Now, as we enter a new era, a 'global village' generated through digital media,McLuminations proposes we retrieve the video-text of electronic media culture's foremost prophet Marshall McLuhan from the obsolescing media in which his thought is so concisely inscribed. The series 'illuminates' this work through screenings such that the archival McLuhan may be projected to reflect upon our current age.
This event series will be documented with the aim of publishing a bilingual German-English catalogue introduction to McLuhan as experienced through the video materials in the Marshall McLuhan Salon Archive.
This event is part of the RE-TOUCHING McLUHAN Centennial Weekend. This event is free and open to the public, but spaces are limited so please RSVP at rsvp@mcluhan2011.eu with the subject heading 'McLuminations'.
This event will take place in English / Diese Veranstaltung wird in englischer Sprache stattfinden.
For updates please check back to this page, subscribe to the transmediale newsletter or follow us on Facebook and Twitter.