Refunct Media #5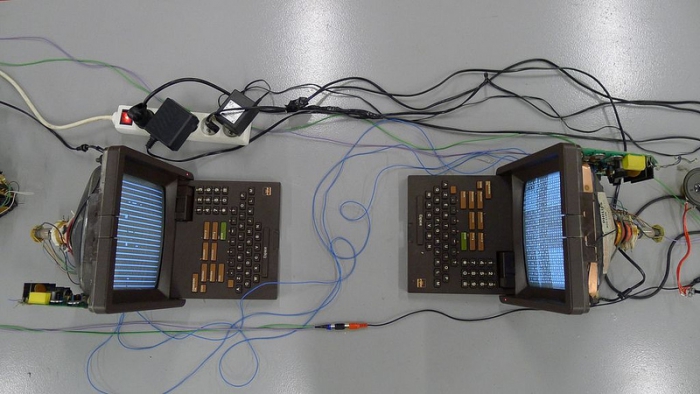 Voluntarily complex and unstable, "ReFunct Media" is an installation that experiments and explores unchallenged possibilities of "obsolete" electronic and digital media and our relationship with technology and consumption. Rather than merely dealing with e-waste, and sustainable design strategies, it aims to re-contextualize second-hand hardware or cheap toys, and to transform commercial and mass-produced technology (such as Minitels and TVs) into unique devices, with potential for new and original means of expression or communication.
The development of the ReFunct Media #5 installation for transmediale 2013 started in August 2012 by hacking a very iconic device: the French Minitel, a Videotex online service accessible through the telephone lines. During the summer workshop, participants became familiar with basic hardware hacking and circuit bending, working with a just-proclaimed-dead device, as the Minitel network has been closed for good.
ReFunct Media #5 plays with the limits of planned obsolescence and the short lifespan of digital technologies. The planned death of digital devices causes a rapid decrease in the economic value of existing electronics. Although the value of obsolete electronics approaches zero, their components can still be useful in other contexts. Deconstructing and recycling readily available, cheap, electronic devices into creative tools is more than a lot of fun. The process offers the same visible, hands-on learning and understanding acquired through dissection.
ReFunct Media #5 is a collaborative project initiated by Benjamin Gaulon with Karl Klomp, Tom Verbruggen, Gijs Gieskes. Special guests for the transmediale edition: Phillip Stearns and Peter Edwards. The project also includes contributions from ReFunct Media #4 by Niklas Roy.