Speisekino #16 – Blockbuster Video: transmediale in-between
Speisekino #16 – Blockbuster Video: transmediale in-between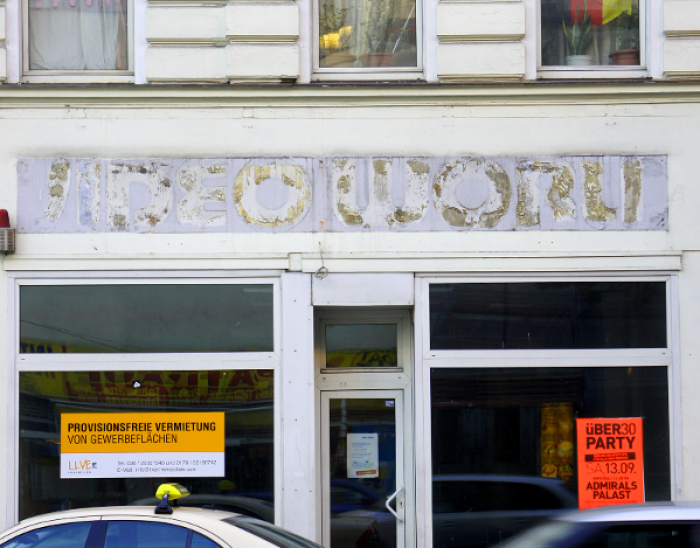 Blockbuster Video: transmediale in-between
Speisekino Moabit #16
19 September 2014, doors open at 19:00
19:30 dinner for 5 € (first-come-first-served basis)
21:00 films for free, ends around midnight
ZK/U – Center for Art and Urbanistics, Siemensstrasse 27, 10551 Berlin
Curated by Kristoffer Gansing and Marcel Schwierin
Dinner provided by raumlaborberlin
Including screenings of:
- Das Magische Band – The Magic Tape (de 1959), Ferdinand Khittl (German with English subtitles)
- Assorted films picked up from Leopoldplatz to Beusselstrasse
- A Story for the Modlins (es 2012), Sergio Oksman (English)
The event will be in English.
About "Blockbuster Video"
transmediale is a festival and ongoing project that takes place in the interstices of art, media and everyday cultures. In this spirit, the transmediale edition of the open-air film series Speisekino is a travelling across borders: geographical, medial as well as aesthetic and culinary. From films picked up in the streets of the Moabit and greater Westhafen neighbourhoods to archaeologies of big data, the transmediale artistic director Kristoffer Gansing and transmediale film curator Marcel Schwierin will together present this screening that connects last years afterglow theme with the developing topics of transmediale 2015 CAPTURE ALL. To complement, augment and perhaps even upset this cinematic experience, members from raumlaborberlin are serving a thematically connected dinner.
Programme Details
In "Blockbuster Video", Kristoffer Gansing will give a performance-video-lecture based on a research into the everyday video cultures of the neighbourhoods surrounding Westhafen, spanning an urban media geography from Leopoldsplatz to Beusselstraße. Investigating the diseappearing physical sites of local media distribution, he brought back film clips from videos picked up at local video stores, flea markets, grocery stores and other more or less invisible outlets. In choosing these "afterglow" materials, special attention was given to offline systems of annotation and ordering such as messages and codes written on post-it notes and video labels. The lecture thus relates to the ucpoming transmediale festival in 2015, Capture All, in that it attempts to outline the significance of metadata in pre-cloud computing and informal archives of consumer media consumption and distribution.
The lecture is framed by two films chosen by Marcel Schwierin. The first, Das magische Band (The Magic Tape) by Ferdinand Khittl pays tribute to the disappearing medium of magnetic tape, and is at the same time an uncanny forecast of today's data-driven society. The final film of the evening, A Story for the Modlins by Sergio Oksman is an example of how you can assemble a narrative from media fragments, in what is an intimate portrait of a family life led in seclusion and obsessive self-mediation.
About Speisekino Moabit
Speisekino is an open air cinema which offers movies with meals and meals with movies every Friday from June until mid September. In cooperation with invited curators and cooks, ZK/U puts together a rich programme. They present killerbees, anarchy, cultural commemoration, football and other themes, in formats spanning from trash to thought provoking, from participative workshops to pensive documentaries, and sometimes live music. With this they serve absurd, unusual, surprising, fully normal - and in every case delicious - food.
About raumlaborberlin
Long time transmediale partner raumlaborberlin exists as working and action community for architecture and urbanism since 1999. Apart from more conventional tasks in architecture, the nine members of the collective also deal with town planning, action, design of public spaces and artistic installations. On this occasion, they will provide some nice food for the evening at ZK/U.