Speisekino #18 Psychosociotronics – transmediale at Speisekino Moabit
Speisekino #18 Psychosociotronics – transmediale at Speisekino Moabit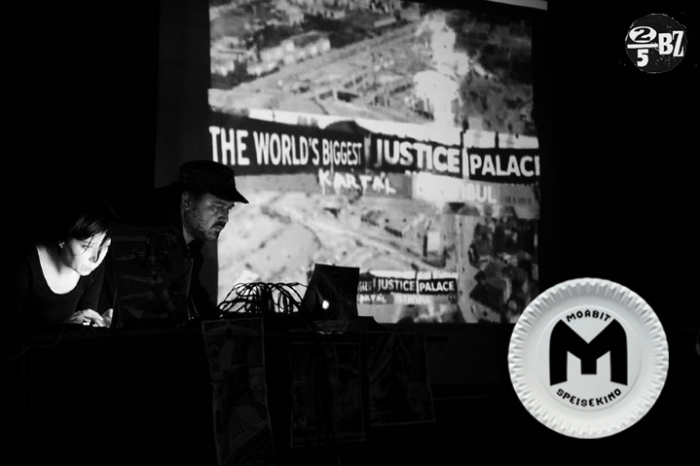 Free entrance
Menu: 7€
19:00 Doors open
19:30 Food served (until there is no food left)
21:00 Serving a video-conversation between Oliver Lerone Schultz and Serhat Köksal.
22:00 2/5 BZ Audiovisual performance
with Serhat Köksal: live sound & video manipulation & concept
and Zeynep Sarikartal: live electronic sound processing.
ZK/U – Center for Art and Urbanistics, Siemensstrasse 27, 10551 Berlin
Event is in German and English. Films will be graphic/illustrative rather than dialogue-based.
This Speisekino focuses on media actions and re-actions in the aftermath of social movements, political turmoil and their (darkish) phase-transitions. It points forward to the transmediale 2016 "Conversation Piece" and one of its thematic streams "Anxious to Act" as facilitated by Oliver Lerone Schultz. In the center of this evening is the long-standing psychotronic work of Turkish activist, musician and filmmaker Serhat Köksal who under his 2/5 BZ moniker will present the live audiovisual performance "GEZILLA DESTROYS ISISTANBUL", for this occasion updated and served with the glazing "BERLISTANBUL: THE WORLD'S BIGGEST JUSTICE PALACE" in collaboration with Zeynep Sarikartal. The performance is preluded by an introductory discussion around a video section projecting an upfront dialogue between the conversationalists. This part will introduce sensory deprivation and sensory politics in general as a faceted cross-link between repression, corruption, consumerism and escapism. Bon appétit!
More on Serhat Köksal
http://2-5bz.tumblr.com/
About Speisekino Moabit
Speisekino is an open air cinema which offers movies with meals and meals with movies every Friday from June until mid September. In cooperation with invited curators and cooks, ZK/U puts together a rich programme. They present killerbees, anarchy, mid-ninties skateboard culture, twerking and other themes, in formats spanning from trash to thought provoking, from participative workshops to pensive documentaries, and sometimes live music. With this they serve absurd, unusual, surprising, fully normal – and in every case delicious – food.