World of the News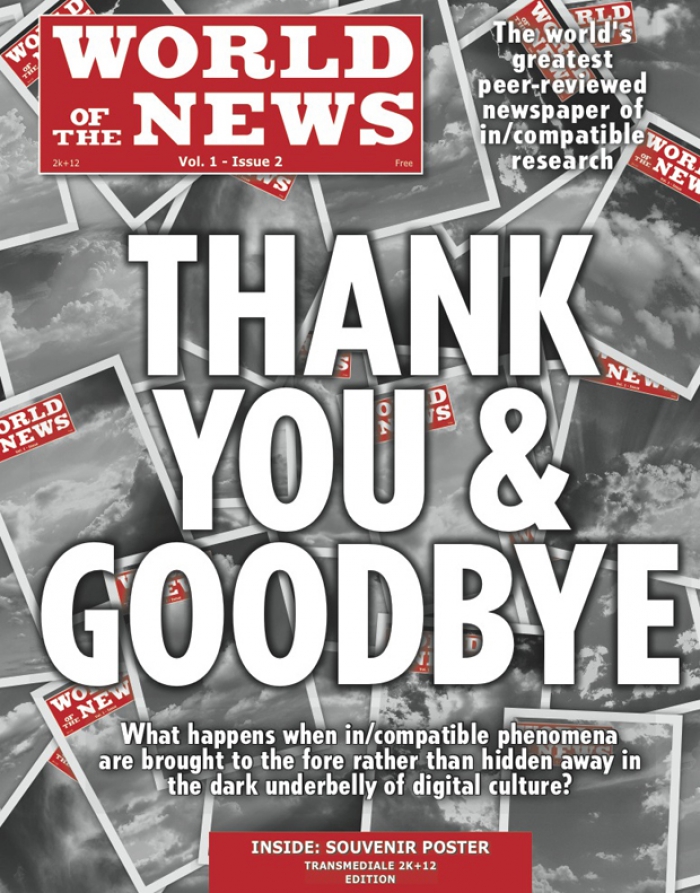 Thematic publication of transmediale 2k+12
Word of the News
Geoff Cox & Christian Ulrik Andersen (eds.)
© Copyright: 2012
32 pages, English
FREE
World of the News – The world's greatest peer-reviewed newspaper of in/compatible research presents cutting edge in/compatible research in an accessible FREE tabloid format. The newspaper partly addresses academia's increasing demand for publication of academic peer-reviewed journal articles. Perhaps researchers need new visions of how to produce and consume research?
The content of the newspaper derives from a Ph.D. workshop and conference held in November 2011, at University of the Arts, Berlin (organised by Aarhus University in collaboration with transmediale/reSource for transmedial culture and the Vilém Flusser Archive).  This provided an insight into current research from academics, practitioners, and Ph.D. researchers from an open call. Leading up to that event, and subsequent to it, a blog has been gathering draft articles and discussions, reflecting on the key issues. This collaborative 'peer-review' process has been further developed during the festival itself, on 01 February, 2012. So, although this may seem like old news in many ways, in terms of research practices, it breaks with some of the current academic conventions of peer-review, academic reputation, and what constitutes proper scholarly activity.
In the light of questions such as "how to measure research?" and "what constitutes a knowledge platform?" World of the News addresses the broader context of its own production. These questions are especially important in a situation where the re-organisation of universities across Europe as well as cuts in the cultural sector are being increasingly determined by the market. Unlike education in many countries, the newspaper is FREE.
The newspaper was also the thematic publication of this year's transmediale festival in Berlin, and follows a previous publication of a peer-reviewed newspaper by Digital Aesthetics Research Centre in 2011, Nyhedsavisen: Public Interfaces. It addresses how different technologies, their cultures of use, and their conceptualisation at once represent compatibilities and incompatibilities. What happens when such in/compatible phenomena are brought to the fore rather than hidden away in the dark underbelly of digital culture? Is their in/compatibility a threat to stability, connectivity and to the operations of socio-technical systems more broadly? How do these unresolved tensions and paradoxes of media technologies continue to impact experimental artistic imagination and research practices?
Contributors: Christian Ulrik Andersen, Cesar Baio, Tatiana Bazzichelli, Zach Blas, Morten Breinbjerg, Geoff Cox, Lina Dokuzović, Jacob Gaboury, Kristoffer Gansing, Baruch Gottlieb, Jakob Jakobsen, Ioana Jucan, Dmytri Kleiner, Thomas Bjoernsten Kristensen, Magnus Lawrie, Giannina Lisitano, Aymeric Mansoux, Alex McLean, Rosa Menkman, Gabriel Menotti, Andrew Murphie, Jussi Parikka, Søren Pold, Morten Riis, Lasse Scherffig, Cornelia Sollfrank, Mathias Tarasiewicz, Tiziana Terranova, Marie Thompson, Nina Wenhart, Carolin Wiedemann, Siegfried Zielinski.
Blog: http://darc.imv.au.dk/incompatible/