transmediale.10 Exhibition – Future Obscura
transmediale.10 Exhibition – Future Obscura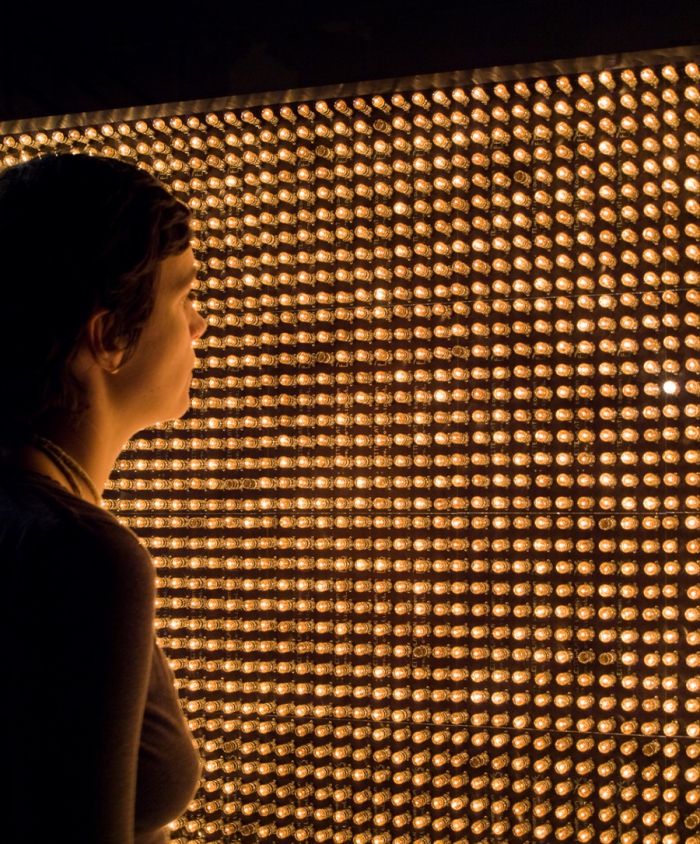 We make our journeys out there in the low light of the future, and return to the bourgeois day and its mass delusion of safety, to report on what we've seen. What are any of these 'utopian dreams' of ours but defective forms of time-travel?
Thomas Pynchon, Against the Day (2006)
Future Obscura brings together a group of diverse artworks which explore the complex condition of futurity through the lens of image-making. Clear boundaries of the time continuum are broken down by artists whose work allows us to peer into the "low light of the future".
As her curatorial departure point, guest curator Honor Harger explores the camera obscura, the historical apparatus in whose interior the image of an exterior scene can be projected. The exhibition presents the work of artists who re-work this mechanism artistically by appropriating the materials, mechanisms and machines of image-making. It features a large-scale audiovisual installation by pioneering Japanese artist Ryoji Ikeda, who is presenting at transmediale for the first time. Other highlights include the German premières of White Noise a major installation by rising star Zilvinas Kempinas, who represented Lithuania at the 2009 Venice Biennale and A Parallel Image, an electronic camera obscura by Gebhard Sengmüller, previously known for his striking work Vinyl Video. transmediale.10 will also stage the world premières of important new site-specific pieces by Julius von Bismarck, Julien Maire, Yvette Mattern and Julian Oliver.
Future Obscura explores how the machines and materials of moving-image making capture, retain and reproduce our reality and so alter our sense of temporality.  Some of the works, such as those by Sengmüller and Maire, refer to the way that optical devices, such as the camera obscura and the film projector, manipulate light and temporality. Other works by the likes of Kempinas and von Bismarck show how mediums such as tape and film can act as both mechanisms of memory in the form of data-storage, but also as formal artistic materials.
Together the works in the exhibition meditate on how futurity is an obscured notion of what we used to think of as the future.

In conjunction with the Haiti Benefit Concert at the HKW, the exhibition will be extended until 21.00 Tuesday, 9 February 2010. On Tuesday donations for Port-au-Prince independent 'Radio Metropole' will be collected in lieu of ticket sales. All proceeds will go directly to 'Radio Metropole' for re-construction and the securing of free and independent radio in Haiti.
The action is supported by our partners and sponsors incl. serve-u, Geiertronic GmbH, laserfabrik showlaser GmbH, werkleitz and Instituto Cervantes.
Exhibition artists:
Julius von Bismarck (de)
Ryoji Ikeda (jp/fr)
Zilvinas Kempinas (lt/us)
Julien Maire (de/fr)
Yvette Mattern (de/us)
Alice Miceli (br)
Julian Oliver, Clara Boj, Diego Diaz and Damian Stewart (nz/es) Ken Rinaldo (us)
Gebhard Sengmüller (au)
Bengt Sjölén, Adam Somlai-Fischer & Usman Haque (se/hu/uk) TeZ (it/nl)