Composting the City | Composting the Net
Composting the City | Composting the Net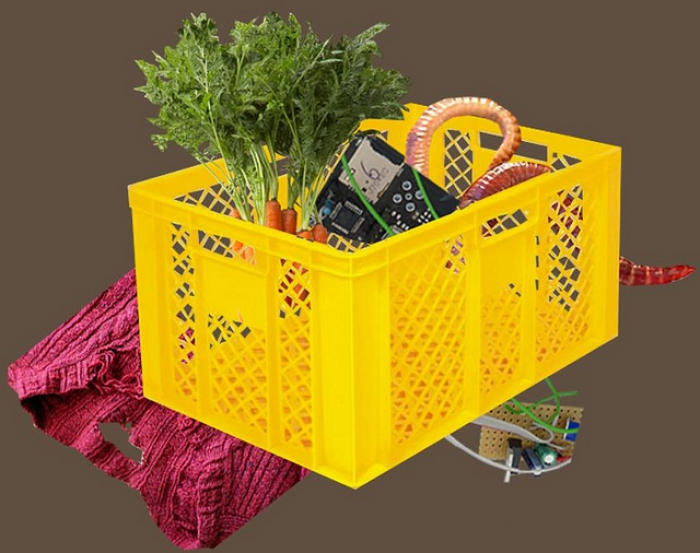 Composting the City | Composting the Net is a project by Shu Lea Cheang that examines the parallel degenerative process of fermentation and fragmentation of our daily food scraps and shared digital commons. While Composting the City investigates urban food waste management systems, Composting the Net sources net cultures' accumulated data. Food scraps dumped onto a compost heap are layered and turned until all traces of labeling are erased. On the net, the abundance of info-data sinks into a deep "reservoir" with tags attached.
The Berlin edition of Composting the City was launched at reSource 002: Out of Place, Out of Time in August 2012. Twelve vermicomposting units made out of bread crates were installed outside of the Kunstraum Kreuzberg/Bethanien. Borrowing an "ADOPT A HIGHWAY" mode of highway maintenance, the initiative called for Berliners to  "ADOPT A COMPOSTER." Twelve "foster parents" signed up to undertake the six-month task of feeding the worms and mini-blogging their routines and thoughts on food consumption. (The adopters are: Tikul, Susanne Reiher, Gaia aka Allegra /Liebig12, Desiree,  Alexandra R. Toland  & Tilia Grace, sks/urban metabolisms, Ayumi Matsuzaka ,Valentina Karga, Andrea Schneemeier, Claudia Sommer, Till Nagel  & Janina Siering, Gaby Wegener & Peter). 
Composting the Net proposes an optimistic version of reprocessing the toppled digital landfill of online list communities. The legacy of network(ed) culture remains in (un)moderated mailing lists, which are open platforms for disseminating information, engaging in discussion and debate. To mention a few, Nettime is a list for networked cultures, politics and tactics. initiated in 1995; Spectre (a list for media art and culture in Europe) offers a channel for practical information; Empyre – soft_skinned_space facilitates critical perspectives on set topics; the AHA list on artistic activism and net culture encourages thinking about art and hacktivism as an open network of practices and interventions. These lists—established before Facebook Corporation locked on data vault—maintain public, accessible, open archives. These postings of participatory records are data commons to be composted, sparing the future net archaeologists or post-net bomb-defusers' efforts to upturn the data-debris. Scrambling the texts, checking through the postings, the data-compost promises to germinate fresh vigorous seedlings.
Composting the City | Composting the Net join together at transmediale 2013 as a composting performance with Shu Lea Cheang, Martin Howse, Ayumi Matsuzaka & Tikul, on Friday February 1st, in room K1 at the Haus der Kulturen der Welt (at 17.30).