New Issue! A Peer-Reviewed Journal About / EXCESSIVE RESEARCH
New Issue! A Peer-Reviewed Journal About / EXCESSIVE RESEARCH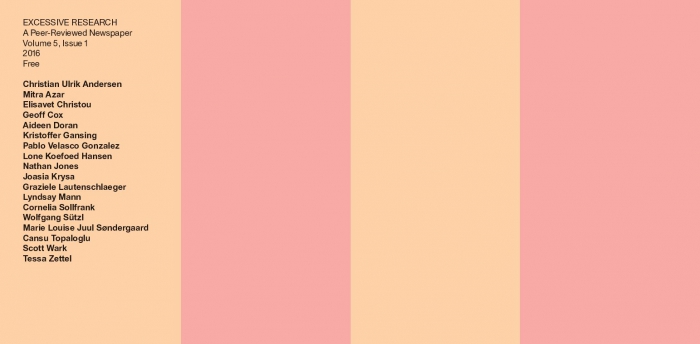 EXCESSIVE RESEARCH relates to the announcement of transmediale 2016, Conversation Piece which highlights the compulsive actions of digital culture, and how we are constantly encouraged to stay active, to make, to share and to secure. Following a research workshop in Liverpool, organised in partnership with Liverpool John Moores University and the Liverpool Biennial, this issue of APRJA delves into the nature of these actions and their limits. It asks: What happens when research is less about exchange and more about excess?
EXCESSIVE RESEARCH was launched in two sessions during transmediale/conversationpiece where through conversations the presenters responded to the compulsive actions of digital culture with an emphasis on the concept of excess.
Download Newspaper (pdf)
Read the journal online
Table of Content
"Being with one another: Towards a media phenomenology of sharing" (By Wolfgang Sützl)
"Oblomov's Dream: An Art Practice-Led Enquiry Into Radical Boredom in the Network World" (By Aideen Doran)
"The Testimony of Structure: Codecs and Contemporary Poetry" (By Nathan Jones)
"Sharing the Abject in Digital Culture" (By Marie Louise Juul Søndergaard)
"Plan Bienen: Sharing (in) the more-than-human city" (By Tessa Zettel & Sumugan Sivanesan)
"Superabundant design: from waste to control in Bitcoin mining" (By Pablo R. Velasco González)
"Sharing: the rise of a concep" (Cornelia Sollfrank, in conversation with Wolfgang Sützl)
"Cum Deus Calculat, Fit Mundus, or The Will to Technology: Diagnosis and Cure" (By Kasper Schiølin)
VOLUME 5, ISSUE 1, 2016
Edited by Christian Ulrik Andersen and Geoff Cox
ISSN 2245-7755
Edited by all authors
Published by Digital Aesthetics Research Center, Aarhus University in collaboration with transmediale, Liverpool John Moores University and Liverpool Biennial.
Design by The Laboratory of Manuel Bürger, Manuel Bürger & Hendrike Nagel
CC license 'Attribution-NonCommercial-ShareAlike'
EAN: 9788791810275
ISSN (PRINT): 2245-7593
ISBN: 7-91810-27-2
ISSN (PDF): 2245-7607
Publication supported by Centre for Participatory Information Technology, Aarhus University
Context
Since 2011, Aarhus University and transmediale have organised research workshops as part of an ongoing collaboration with shifting partner organizations: In/Compatible Research, Universität der Künste (Berlin, 2011); Researching #BWPWAP, Leuphana University of Lüneburg (Lüneburg, 2012); Post-digital Research, Kunsthal Aarhus (Aarhus, 2013); Datafied Research, School of Creative Media, City University Hong Kong (Hong Kong, 2014), EXCESSIVE RESEARCH Liverpool John Moores University, the Liverpool Biennial. Each of these workshops has resulted in the publication of a peer-reviewed newspaper as an experiment in new forms of scholarly publication, and an open access online academic journal, APRJA (A Peer-reviewed Journal About_).