Opening Ceremony tm.11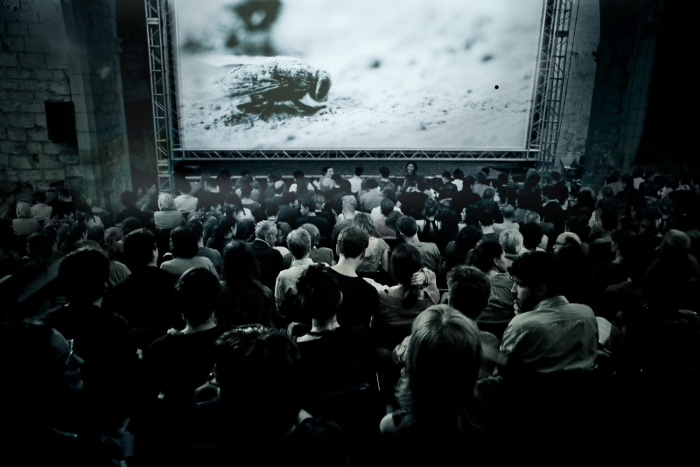 Start your 'RESPONSE:ABILITY', here and now....!
For the first time at transmediale a non-human digital personality will be participating! Special opening guest Derrick de Kerckhove will introduce his son, Angel_F (aka Pinocchio 2.0), a boisterous digitally conceived spyware entity born through the technological-sensual relationship between himself and Biodoll. Drawing reference to Marshall McLuhan's assertion that we would become extensions of our own machines and vice-versa Angel_F will be seeking the archetypal myths of our relationships with technology. With a German premiere of DUST by Herman Kolgen, a poetic reflection will be drawn to our digital culture, inspired through one of the first works of collaborative electronic art, Man Ray's photo Élevage de poussière of Marcel Duchamp's Large Glass. transmediale.11's zones of artistic and critical inquiry, the Open Zone and HacKaWay will open with labs, installations, actions and the inauguration of festival bureaus by Heath Bunting and Christin Lahr, and a performance of Latent Image Protocol by Paul Vanouse who will prepare the first of his unique DNA fingerprint samples. In the studio gallery, transmediale in collaboration with the HKW hosts The Secrets Trilogy, the 4th Labor Berlin merging Reynold Reynold's Secret Life, Secret Machine and Six Easy Pieces in a complex work that twists the notions of time and space – the imperceptible conditions that question the nature of our liveness within the cacophony of technological life. Enjoy!
Please note that you need an invitation to attend the Award Ceremony. However it's possible to queue for free tickets at the Info Counter a few minutes before 7pm on Saturday.
18:30 Doors open
19:00 Stephen Kovats – Artistic Director, transmediale.11
Prof. Derrick de Kerckhove – Research Director, Universitat Obierta de Catalunya, Barcelona
Angel_F – Autonomous Non-Generative E-volitive Life_Form (it)
A/V performance: DUST by Herman Kolgen (ca)
20:00 transmediale.11 with Open Zone and HacKaWay turned 'ON'
20:00 Labor Berlin #4: The Secrets Trilogy by Reynold Reynolds (de/us)
21:00 HacKaWay: Latent Figure Protocol by Paul Vanouse (us)
21:00 Café Stage: Crowd vs the DJ | Christopher Doering & Jay Cousins
22:00 HacKaWay: Braun Tube Jazz Band by Ei Wada (jp)
22:15 Café Stage: Selected Videomusical Works | Gabriel Shalom, Videomusician (de/us)

CTM.11 Opening Concert - 31.1., 20:00, HAU 1
Silver Apples of the Moon Revisited by Morton Subotnick & Lillevan, Special Guest: Soojin Anjou


With the generous support of ARTE Creative, the Schering Stiftung and the Bureau du Quebec à Berlin