transmediale Award 2011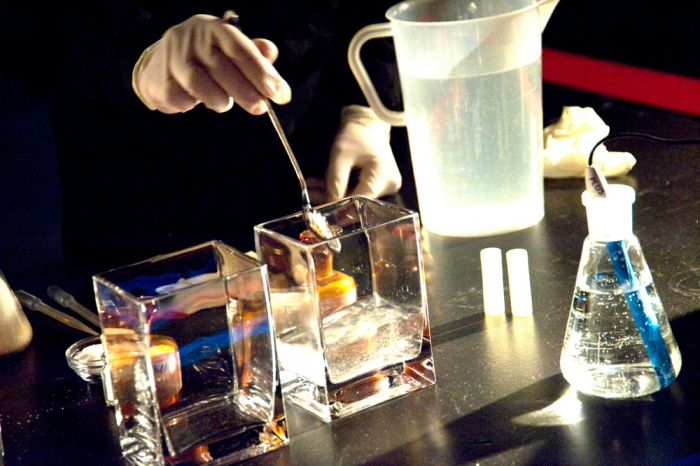 Deadline:
31st July 2010
Festival Dates:
01 - 06 February 2011
As leading international festivals for art and digital culture as well as adventurous music and related visual arts, respectively,
transmediale
and
CTM
(club transmediale) are now inviting submissions to the
transmediale Award 2011
. Invited are art works and projects that respond to the challenges of our rapidly changing digital, technological and network oriented cultures. The
transmediale Award
seeks original, innovative and visionary works across a wide scope of form, process and practice that embrace, question and enrich our understanding of and relationship to our globally complex, media immersed and technologically diverse society. Entries that exemplify new and critical forms of digital expression, interaction, and collaborative practice are encouraged, as are works from countries and regions in which digital art and culture are emergent.
Jury of the
transmediale Award 2011
are
Marisa Olson
(New York),
Matteo Pasquinelli
(Amsterdam),
Brandon LaBelle
(Berlin),
Micz Flor
(Berlin),
Defne Ayas
(Shanghai)
_Host Festivals
transmediale
presents and pursues the advancement of artistic positions reflecting on the socio-cultural, political and creative impact of new technologies, network practices and digital innovation. As a festival aiming to define the contours of contemporary digital culture, it seeks out artistic practices that not only respond to scientific or technical developments, but that shape the way in which we think about and experience the technologies which impact virtually all aspects of our daily lives. As such, transmediale understands media technologies as cultural and aesthetic techniques that need to be embraced in order to comprehend, critique, and shape global societies.
transmediale
is a project of the Kulturprojekte Berlin GmbH, in cooperation with the House of World Cultures and funded by the German Federal Cultural Foundation.

CTM
(club transmediale) is dedicated to contemporary electronic, digital and experimental music and sound creation, as well as the diverse range of artistic activities and social practices that develop within and connect to those audio cultures. Thus, the festival reflects on the agency of contemporary sound creation within the cultural fabric of society and its technological and social transformations. It explores the intersections of contemporary music and audio art with other artistic forms and cultural fields. A special emphasis is put on the creative use of new technologies, the interplay of sound with other media formats, the situational potential of live performances, and generally on critical artistic and organizational practises within audio cultures that point towards increasing cultural, political and economic self-determination.
CTM
is a project by DISK / club transmediale GbR and DISK Initiative Bild & Ton e.V.
_Procedure
Applications are accepted from individuals, groups, or collectives as well as recognized organizations or individuals acting on behalf of entrants. There are no entry fees for either competition. Applicants must agree to the Conditions of Entry, and incomplete or late entries [Deadline: 31st July 2010 (2400 CEST / UST+2)] will not be considered. Entrants must register and use the online application form only (additional hardcopy or preview materials may be sent by post/courier ONLY as backup information, not in lieu of the online applications themselves. Hardcopy materials will not be returned unless 20 EURO cash has been included for this purpose). Award prizes are a total 10.000 EURO for the transmediale Award and Vilém Flusser Theory Award 2011. Notification of Award nominees will be made in October 2010, and prize winners will be announced during the festival. Entries may also be considered for inclusion in the programme of either or both festivals.
>
Download the .pdf
of the transmediale Award / Vilém Flusser Theory Award 2011 Call for Entries
>
Please read the
Conditions of Entry
before applying.
>
Submit your work to the Awards competition using the online form. In order to do so you must register by creating your own personal and unique user account or, if you have registered in the past, login to transmediale.
- transmediale and Vilém Flusser Theory Awards Call for Entries is now closed -