Award Winners 2011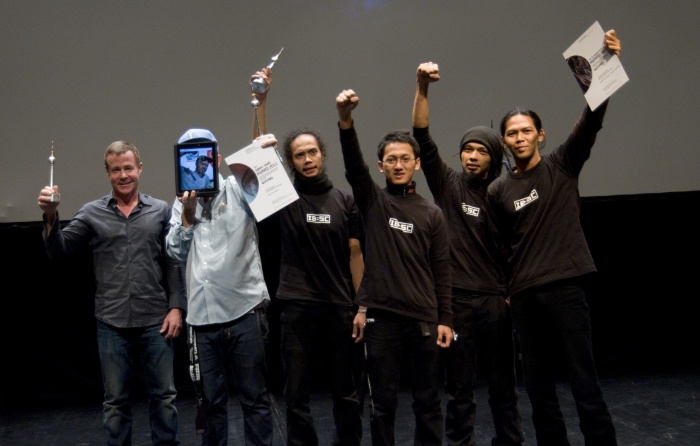 At the Award Ceremony Stephen Kovats first welcomed Prof. Dieter Daniels who gave a short speech and address. Next Stephen introduced Kristoffer Gansing who will join us from Sweden to become the new artistic director of transmediale. Finally jury member Micz Flor, Claudia Becker of the _Vilém_Flusser_Archiv in Berlin and Mark Surman, Mozilla CEO and this year's speaker at the Marshall McLuhan Lecture, moderated the ceremony and talked us through all of the 14 nominated artworks and projects. At last they handed over the three prizes.
And the winners are.............
The House of Natural Fibre (HONF) were honoured with the transmediale Award for their installation Intelligent Bacteria – Saccharomyces cerevisiae. Join them on Sunday night, 6 February, when they perform their bacteria orchestra in the HacKaWay in one of the closing events of transmediale.11!
Jordan Crandall is this year's winner of the Vilém Flusser Theory Award. A few days ago he presented his written piece GATHERINGS 1: EVENT, AGENCY, AND PROGRAM in a performance lecture at the Auditorium.
The public voting for the Open Web Award ended on Saturday night 4 February with Evan Roth having scored the highest amount of votes. With a total of 415 votes his project Graffiti Analysis / Graffiti Markup Language is the first project to ever be awarded the Open Web Award, a new collaboration between transmediale and Mozilla / Drumbeat. Evan himself couldn't be there to receive the prize but had a friend read out a statement for him. Pointing out how difficult it can be in the arts to get proper financial support and funding Evan decided to split the award money of 5000 Euros between all of the three nominees in his category as a gesture towards the importance of projects of this kind.
Furthermore these works were honoured with a Distinction: Congratulation also to Christin Lahr for MACHT GESCHENKE: Das Kapital – Kritik der Politischen Ökonomie, Seppukoo.com by Les Liens Invisibles and Vanessa Ramos-Velasquez with her piece Digital Anthropophagy and the Anthropophagic Re-Manifesto for the Digital Age as well as the trio of FLOSS Manuals for Booki and Dmytri Kleiner for thimbl !