Workshops @ transmediale.11
Workshops @ transmediale.11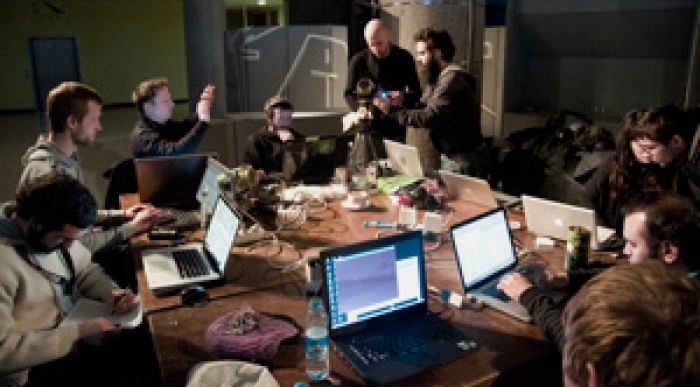 Also this year visitors with festival or day passes are invited to take part in our daily workshop programme. It's a great great opportunity for new experiences and to enter into direct exchanges with the artists involved in the festival. Workshop topics range from courses in hacking techniques to fashion design and circuit bending workstations.
Since places are often limited we'd like to remind you to register early enough to make sure to get a place.
COS - (Consciousness of Streams)
CoS (Consciousness of Streams) activates transmediale.11 as a ubiquitous, cross-medial publica(c)tion live stream that will not end with the festival itself. CoS is an environment, a workshop series, a performative practice, and an insider view on our new way of life where cities, relationships, businesses and leisure have become information displays.
The five CoS workshops Space, Time, Emotion and Identity (part 1 & 2) for a maximum of 15 participants are aimed at encouraging the festival visitors to actively contribute to the CoS live stream. Each will follow a hands-on approach to the themes investigated through CoS.
Identity (Part 1) - Wed, 2.2.2011 - 16:00
Identity (Part 2) - Thu, 3.2.2011 - 12:00
Space - Fri, 4.2.2011 - 11:00
Time - Sat, 5.2.2011 - 16:00
Emotion - Sun, 6.2.2011 - 16:00
WOPPOW
Workshop 1 – Wed 2.2.2011 - 13.00
Workshop 2 – Thu 3.2.2011 - 13.00
Workshop 3 – Fri 4.2.2011 - 13.00
Since 2009 UBERMORGEN.COM have been exploring the methodologies of piracy as well as the reactions to them. In considering, at transmediale.11, the criminal interventions of the RAF (Red Army Faction) of the 1960s, for example, and problematics of expropriation in the former GDR, UBERMORGEN.COM ask whether and to what extent piracy tactics could also apply in Germany. 
This workshop aims to create not only a visual language of piracy but a genuine fashion line.
WEIGHTLESS WEB - KILOGRAM KISSES MEGABYTE
In this workshop, the
gannaca
Think Tank will examine analogue and digital products and models in detail and test them for their RESPONSE:ABILITY. Wherever differences and frictions occur, tools will be designed enabling us to understand, present, and express those discrepancies.  
Urban Screens – Visualisation zones for a media saturated urban society
02.02.2011 16:30
As a follow up of the workshop Reclaim the Screens! during transmediale.10 and based on the Media Facades Festivals Berlin 2008 and Europe 2010 we explore how artists, curators and creative people can utilise the urban screens infrastructure as social vision panels. What is the communicative, intercultural potential of public screens? Which socio-aesthetic forms of interaction enable a dialogue between different local scenes, how can we engage the public in the creative process to contribute to local community building?
Intelligent Bacteria : Art in Culture (a workshop series). How to make cheap and fun slant culture.
Wed, 2.2.2011 - 10:30
ART IN CULTURE is a workshop series under the umbrella of Intelligent Bacteria in which the members of HONF will teach the job of a scientist through an artistic approach, by making a slant culture coloured with natural dyes. The workshop is aimed at novices and specialist alike with interest in any field. All welcome.
Thimbl Workshop with Dmytri Kleiner
Wed, 2.2.2011 - 16:00
In this workshop Dmytri Kleiner, creator of thimbl, the free, open source, distributed micro-blogging alternative will talk about how thimbl came in to existence and what makes it different from other social networks. Dmytri will also show the participants how to get webhosts, Internet service-providers or system administrators to provide accounts so that they can use the thimbl for or for their own creative practices.
Open Digital Radio with Mathias Coinchon
Thu, 3.2.2011 - 10:00
Moving towards a democratisation of digital radio, cheaper digital transmission technologies allow individuals to access an otherwise rather exclusive communication system. Mathias Coinchon of the European Broadcasting Union shows workshop participants techniques and tools for alternative and independent digital radiomaking. No experience necessary but a passion for open source beneficial!
Mapping, Money and Meaning with Eric Pöttschacher (Shapeshifters)
Fri, 4.2.2011 - 16:00
Shapeshifters sees a huge potential to install new investment models and utilize resources for the common good. They have developed a new mapping of Creative Tribes and Value Zones to shape more sustainable connections between creatives and investors. In this workshop, their research findings will be presented to the public for the first time ever.
Facebook Resistance Artist Workshop with Tobias Leingruber
Fri, 4.2.2011 - 13:00
Facebook is taking over the social web. What if you could control Facebook, by adding a Dislike button or creating custom backgrounds? You can! Preregistered workshop participants will learn how browser extensions can be used to modify Facebook, the best hack concepts designed in the workshop will be turned into a real software that users worldwide can download and share. Basic Photoshop & Javascript/CSS knowledge is welcome, but not mandatory. It's all about the ideas.
Mz Baltazar's Laboratory - Feminist DIY Workshop
Fri, 4.2.2011 - 10:30
a workshop for women only
Mz Baltazar's Laboratory wants to demystify technology. In a three days workshop they hack hardware, make noise, build angst-robots and program open source software. They ask a lot of "stupid" tech questions and develop art projects together. Mz Baltazar's Laboratory offers women space to make electronics their own and realize interactive art projects.
Zombie Media Workshop: Circuit Bending as Media Archaeology with Garnet Hertz, Jussi Parrikka
Fri, 4.2.2011 - 10:00
Information technologies are today the platforms of our everyday life. However, we tend to not question the technical processes underlying the user interface. In the circuit bending workshop Zombie Media participants will create their own customized technical device by repurposing and modifying battery-powered toys.
Wikipedia Illustrated with Mushon Zer-Aviv and Galia Offri
Sat, 5.2.2011 - 13:00
This preregistered workshop invites visual artists, image-makers and illustrators from all disciplines to contribute to the Wikipedia Illustrated project by working together to create illustrations for Open use online. Central questions around the use of images will reveal certain surprising and complicated dynamics of Open Culture and collaboration.
Drumbeat Workshop and Consultancy Bureau with Henrik Moltke
Sat, 5.2.2011 - 11:00
Mozilla Drumbeat is a new initiative and global community of people aiming to explain and protect the Internet as a open critical public resource. Preregistered participants will learn more about Drumbeat and are asked to bring their own ideas and projects to the workshop so they can get individual consultancy on how their projects might fit in to the Drumbeat community.
BodyHack with Daito Manabe
Sat, 5.2.2011 - 11:00
Inspired by French researcher Guillaume-Benjamin-Amand Duchenne (1806 – 1875) and Australian artist Stelarc, Daito Manabe has created a 'face instrument' that uses electroshocks to artificially move people's faces in synch with music. During the workshop, participants have the opportunity to "hack" one another's faces and experience a sensation beyond natural human facial expression.
Elektronik zum Klingen bringen with Karl-Heinz Jeron
Sun, 6.2.2011 - 10:00
[
german only
] Ein Workshop für Kinder, der mit dem Bau eines einfachen elektronischen Musikinstruments das Grundprinzip der Tonerzeugung digitaler Wiedergabegeräte erklärt. Dabei wird das nötigte Grundwissen geliefert, ein kreativer Umgang mit Technik vermittelt und gezeigt, wie sich die eigenen Klangvorstellungen realisieren lassen.
Insecure Territories with Bengt Sjölén, Martin Howse, Brendan Howell, 
Public space does not end at the borders of visible, perceptible reality but extends into the invisible. The increased population of communication devices in public life results in a dense layering of electromagnetic content passing through both air and bodies, on route to its target. In form of a workshop and presentation, the technologies and techniques of how to read the plethora of signal in the air, manipulate it and pass it on will be adressed.