Brico-Brunch / The Houses of Happiness
Brico-Brunch / The Houses of Happiness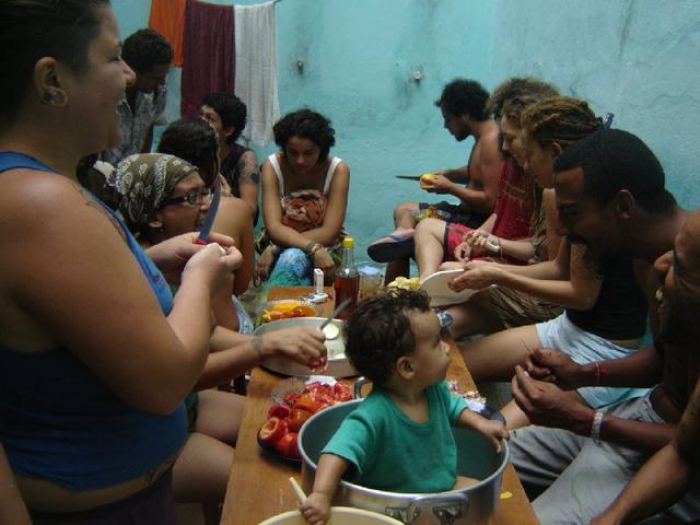 No more avarice!
No more utopias!
No more MASTERPLANS!
Welcome to Brunch with the Houses of Happiness...
DEEP NORTH moves South.
Sun 1 Feb - 11:00, Café Global
With the Houses of Happiness the DesCentro Network, a group of Brazil based artists, activists and researchers working with free and open media to address environmental and social challenges, will transform the House of World Cultures into a space of 'feedback' where guests are invited to eat, drink, play music, dance and talk.
Through mechanisms of migration, impermanence and ambience DesCentro will recreate remote scenarios through an artistic shifting of everyday practices into other contexts. The Houses of Happiness encourage new emotional relationships between participants through sensorial questionings, informal discussions, virtual interactions, all while raising the levels of joy. Injecting atabaques, moquecas, jorge ben vinyl records as constructive elements of their temporary environmental microspace, DesCentro translate the power of Brazilian's improvised architecture into the physical creation of transmediale's culinary Houses of Happiness. The brunch will engage key guests on issues related to mobility, nomadism, global responsibility and the movement of human capital between and across borders. Participants will also be able to connect to the World Social Forum taking place simultaneously in Belem, where other members of DesCentro will be working.
"If, in one hand, one learns how to edit video, with the other one may learn how to eat Atabaques with flour and fish."
In collaboration with  Bundeszentrale für politische Bildung (bpb) und in cooperation with Gesellschaft für Technische Zusammenarbeit (GTZ)